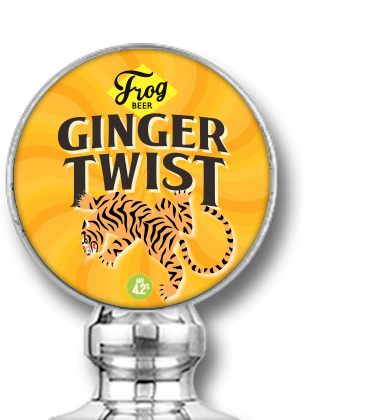 Ginger-Infused Amber Ale

GINGER TWIST

GOLD MEDAL, France, Concours International de Lyon, 2016
BRONZE MEDAL, Barcelona Beer Challenge, 2016
GOLD MEDAL, France (Herb & Spice beers), World Beer Awards 2015




What started many years ago as a seasonal brew has become a FrogBeer cellar icon! By combining the pleasantly floral aroma of a mild Bobek hop with fresh root ginger, lemon and lime our brewers have created a truly unique beer, notable for its zingy aftertaste and drinkability! Crisp, clear golden amber in colour; fresh, fizzy and full of flavour; we are proud to say that there's no other beer that we've tasted (yet!) that's quite like our Ginger Twist.
ABV 4,2%
Lager,
Caramünich,
Wheat
Bobek
IBU 7,9 / EBC 13,7
6x33cl Bottles
Buy online