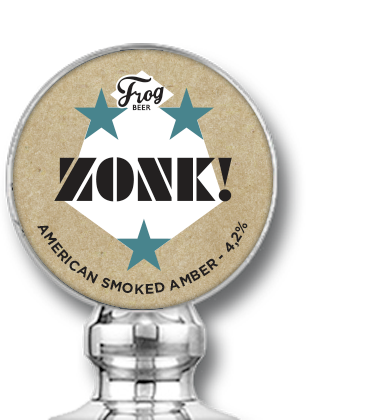 American Smoked Amber Ale

ZONK!

BRONZE, 2017 Dublin Craft Beer Cup (Ireland)

 

Beech smoked barley is the secret weapon that gives this flavoursome beer it's meaty kick. Strong, sweet, nutty notes linger as the spicy bitterness of the vibrant Chinook hop takes hold of this golden-hued beer. A powerful ale for the true beer lover, Zonk weighs in at a gentle 4.2% and is the 5th beer in the FrogBeer Superheroes series.

GOLD France, 2018 World Beer Awards (UK)

BRONZE, 2018 International Beer Challege (UK)

BRONZE, 2017 Dublin Craft Beer Cup (Ireland)
4,2%
Lager
Cara Light
Medium Crystal
Smoked malt
Chinook
Magnum
EBC 19
IBU 20
BOTTLE 33 cL
KEG 30 L